This shop has been compensated by Collective Bias, Inc. and its advertiser. All opinions are mine alone. #StockUpWithPost #CollectiveBias
Cereal is the secret, shortcut ingredient for homemade muffins, after-school snacks, breakfast dishes and even dinner! You get all the flavor and goodness inside one box so it's affordable and quick to prepare. Get creative with your favorite recipes and find your own cereal shortcuts. Then you can stock up for back-to-school and avoid last minute grocery runs when it's your turn to host, bring snack or just get a meal on the table!
Our go-to snack recipe is homemade Granola Bark with nuts, berries and a mix of grains. A box of Great Grains® Cranberry Almond Crunch cereal is loaded with almonds, chewy cranberries and those yummy, multi-grain clusters. Mix it up with a few more ingredients and it's the most simple, crunchy and wholesome Granola Bark we've ever created. A cereal shortcut!
The only hard part is getting the kids to wait patiently while it's baking! The house fills up with a warm, sweet, nutty aroma and the kids keep running into the kitchen to ask, "Is it ready yet?". Our usual time to enjoy Granola Bark is during our after school snack. We create a little tea party and it's my way of letting them enjoy a sweet treat while secretly teaching manners and getting a chance to find out what happened at school that day!
Here's our quick Granola Bark recipe made with cereal as the secret ingredient! Hope you love it and are inspired to stock up and create your own cereal shortcut recipes:
Ingredients
1/4 cup coconut oil
1/4 cup maple syrup
1 teaspoon vanilla extract
3 1/2 cups Great Grains® Cranberry Almond Crunch
1 teaspoon cinnamon
1 teaspoon nutmeg (optional)
1 teaspoon ginger (optional)
Preheat the oven to 350 degrees. Line a baking tray with parchment paper and set aside. In a small saucepan heat the coconut oil, vanilla and maple syrup on medium heat. Bring to a simmer and cook for 5 minutes. Remove from the burner and cool a bit.
In a large bowl, mix together the cereal and spices. Then pour the warm oil-syrup mixture over the dry ingredients. Be sure to drizzle it around and mix well so all the dry ingredients are evenly coated. If the mixture seems too dry then add a little more oil and maple syrup in equal parts.
Spread out the granola on the prepared baking sheet. Try to keep the edges the same thickness as the center to avoid them burning. Bake for 15-20 minutes until nice and brown. Remove and let cool for about 10 minutes.  Gently lift the granola and break into large pieces. You will have some larger chunks (which are great for snacking) and also smaller pieces which are perfect for mixing into yogurt or as an ice cream topping. Store in an airtight container for up to 2 weeks.
Walmart has the best deals and a HUGE selection in the cereal aisle. Remember to stock up on cereal when you're out shopping for back to school.
Hover over the clickable photo below to shop for one of these 3 yummy cereals at Walmart: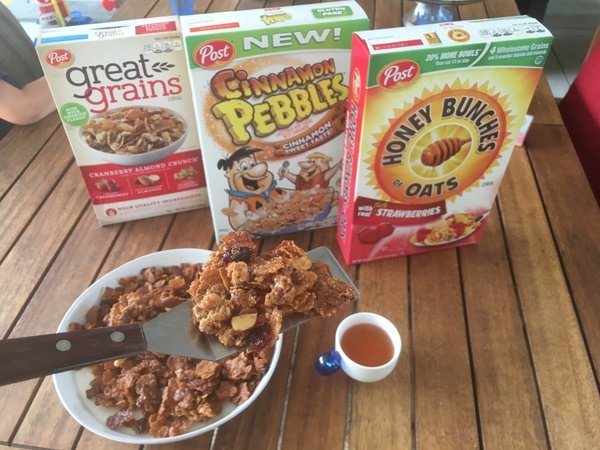 2 MORE CEREAL SHORTCUT RECIPE IDEAS:
Crunchy French Toast made with Cinnamon PEBBLES™
Strawberry Muffins made with Honey Bunches of Oats® with Real Strawberries
Fun, right? Are you inspired? It's your time to find a cereal shortcut for your favorite recipe! Oh, and please remember to share it!
Earn $1 cashback when you purchase Great Grains and Honey Bunches of Oats Strawberry cereals at Walmart with these clickable ibotta offers:
Be sure to look out for more offers for the other Post cereal varieties like Shredded Wheat!
We'd like to also give a special thanks to Post Consumer Brands for inviting us to create this recipe for you!
THE FLINTSTONES and all related characters and elements © & ™ Hanna-Barbera.(s17)