This is a Sponsored post written by me on behalf of Carole P. Roman. All opinions are 100% mine.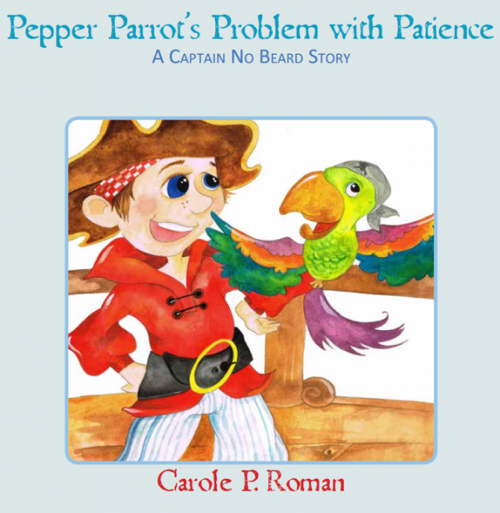 I am always on the lookout for new, fun and educational books to read to my toddler and I have recently been introduced to a wonderful new book series called Captain No Beard: AN IMAGINARY TALE OF A PIRATE'S LIFE.
Captain No Beard and his pirate ship The Flying Dragon set sail for a voyage of the imagination with his fearless crew of four: First Mate Hallie, Mongo the Monkey, Linus the loudmouthed Lion, and Fribbet the floppy frog. Normally a young boy named Alexander, his cousin Hallie, and three stuffed animals, once they board his bed their world is transformed into a magical vessel sailing the seven seas on dangerous and exciting adventures.

The second book in the series, is called Pepper Parrot's Problem with Patience: A Captain No Beard Story. Captain No Beard , his First Mate Hallie and the crew of the Flying Dragon pirate ship are excited to welcome new crewmember Pepper Parrot today. But drills are a major problem for Pepper to participate when she can't tell her right from left side. Her new friends show her some understanding and patience when they teach her a neat trick to overcome the problem. Her new discovery makes her look at herself in a more positive and confident way.Teamwork and helping each other is the theme of this humorous children's book, which includes a subtle but interesting teaching tool for dyslexia. The crew of the Flying Dragon show young readers that there is no need to be sad or frustrated over situations, since we all have the ability to overcome, and others around us are willing to patiently help and guide us toward success. While we may not have the skills we desire at this time, each of us is able to improve and learn with confidence and guidance.
I was drawn to the series and specifically PEPPER PARROT because my daughter is having issues with patience right now and I have been looking for books and other tools to use with her to help her overcome that.
The author is Carole P. Roman, a former teacher and now award winning author. Named to Kirkus Reviews"Best of 2012, for her first book "Captain No Beard-An Imaginary Tale of a Pirate's Life" she decided to turn it into a series of books with Pepper Parrot being the second.

If you are looking for a very fun and imaginative series of books to introduce into your reading rotation go get CAPTAIN NO BEARD. You and your little one (s) will really enjoy them.